General Information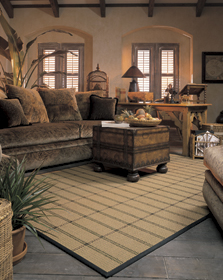 As it becomes more popular than ever for homes to feature hard surfaces such as ceramic tile, hardwood, laminate, or vinyl area rugs become a very important decorating necessity. They can bring out the character in any floor and serve as a foundation to visually incorporate the décor of a room. Area rugs can add to a home in so many ways.
Create a feeling of warmth and coziness - If you have a tile or hardwood floor, the space might feel blank and bare. By adding a small area rug, the space will feel warmer and more inviting.
Add color and pattern to a dull space–  Whether you have a concrete floor or beautiful hardwood, the space can seem large and open. The addition of an area rug can add a spark of color and introduce new pattern to the open area. Keep in mind choosing a lighter colored rug will give the illusion of a larger room whereas a darker style rug creates a sense of intimacy and coziness.
Help to absorb the impact of movement and noise – The loud clicking of heels on the floor all day long can become quite disturbing. Place an area rug in a hall or entry way or between rooms and walking will be quieter. They are extremely helpful in those high traffic areas.
A good place to clean dirty feet – Just inside your home, at both the front door and back door an area rug can collect dirt from outside and help keep the interior flooring clean. Also place a durable area rug outside the door to keep the dirt out.
Help protect fine flooring – For a home with fine carpet or rare hardwood floors, an elegant area rug can keep dirt and scratches to a minimum. Place the rug in the center of a traffic area and the floors will remain beautiful for years.
Add interest and a focal point to a space – For a more dull space, an interesting area rug can become the main point of focus. If a room has neutral walls or solid-colored fabrics on furniture or windows, a pattern on the floor can set the tone for accessories.
Durability – In a room with heavy traffic, a solid dark rug works best to hide wear and tear. If you think you may have the rug for generations to come, you may want to invest in a rug that is made of higher quality and sturdy construction.
Helpful Hint-
Make sure to place a non-skid cushion under all area rugs to keep them from sliding. This will help increase the life of your area rug as well as keep people from slipping on the rugs.
At Carpet N' Drapes we offer an extensive selection of area rugs in various different styles, colors, and textures ranging from luxurious Oriental to stylish contemporary. Our showrooms are complete with the very best selections by the finest manufacturers from around the world. There are a wide variety of shapes and sizes to choose from allowing you to find the perfect rug for any room. Area rugs have become more economical by offering a variety of qualities suitable for every budget and with our competitive pricing you are sure to find a rug that won't break the bank!
---
Brands
| | |
| --- | --- |
| | Sphinx by Oriental Weavers - Sphinx is the area rug market's leader in color, style, and quality. Designed around today's lifestyle, Sphinx area rugs set trends. Offering only the finest materials combined with the highest construction standards in the industry, the name Sphinx has come to be synonymous with quality and value. Sphinx rugs can be kept and enjoyed for years, but are affordable enough to change as often as consumers redecorate. They are designed for styling ranges from Traditional to Transitional from Contemporary to Tribal. Choose among the bold and bright Andy Warhol Home Collection, to the hot and stylish hues of the Lava and Sierra Collection, or the rich and culturally inspired colors found in the National Geographic Home Collection. By providing an essential decorating solution when affordability and high fashion are necessary requirements, Sphinx is sure to have what you need. |
---
| | |
| --- | --- |
| | Nourison - Nourison is regarded as the most diversified manufacturer of handmade rugs in the world. They offer a remarkably comprehensive line of area and accent rugs, as well as distinctive broadloom and roll runner programs. From Country to Contemporary to Classic Traditional, from standard room sizes to high fashion rounds, ovals, and octagon, you're sure to find the perfect rug for your personal decorating style. Choosing from Nourison's magnificent assortment of broadloom field and border designs, you can create a unique custom sized and shaped area rug for any room in your home. Designed in conjunction with their broadloom programs, many of the roll runner styles also coordinate with their area collections. With all runners available in two widths, Nourison can offer any style in a handsomely proportioned custom cut. |
---
| | |
| --- | --- |
| | Dalyn Rugs - Dalyn Rugs is one of the industries leading importers and manufacturers of machine made and custom fabricated area rugs. Dalyn Rugs presents exquisite area rugs ranging from traditional rugs to contemporary rug styles. Dalyn Rugs utilizes different fibers from wool to synthetics such as Polypropylene and advanced nylon solution, which produces rugs with the look and feel of area rugs made from wool. Dalyn Rugs machine made collections of area rugs also utilize olefin and polyester. Their lineup of area rugs includes beautiful collections of modern rugs and oriental designs. These magnificent groupings of area rugs are the perfect combination of both style and price to meet the demands of your home. |
---
| | |
| --- | --- |
| | Shaw Rugs - From large to small, colorful to neutral, Shaw offers area rugs in every shape, size, and style. They have countless lines of area rug and oriental rugs, like the Kathy Ireland line, which allows homeowners the chance to add the benefit of texture and detail to their home at an affordable price. From her tropical Aloha Collection to her luxurious Gee's Blend line, Kathy Ireland rugs are in a class all by themselves. In addition, Shaw also carries other reputable names such as Antiquities and Heirloom Collections, the chic William E. Poole rug line and the trendy Mary-Kate & Ashley Collection. So for whatever look you are going for you can count on Shaw Rugs to have the best selections at an affordable price. |
---
| | |
| --- | --- |
| | Mohawk - Mohawk Select area rugs are the premium choice when it comes to design, color and value. In addition to their beauty and durability, Mohawk Select area rugs are made from superior materials, blending the right colors, textures, and patterns to express your personal style. Their latest innovations showcase the trends toward fresh color, carefree patterns, and movement-oriented designs in area rugs. Mohawk Select's new Decorator's Choice offers versatile patterns including retro-modern inspired graphics, bold scale transitional patterns, Asian inspired geometric, and painterly compositions that become "art for the floor." Mohawk Rugs has hundreds of rugs to give you just the style and color you need to express your unique style. |
---
Warranties
Warranty will differ with each manufacturer. Your sales professional will be glad to get you the information you will need. Most area rug manufactures have warranty information posted on their website.
---
Care and Cleaning
Taking special care of your area rug will prolong its life and appearance. That means guarding against some of a rugs worst enemies such as mildew, dirt, bugs, and of course, general wear and tear of daily use. Here are a few tips that can help keep your rug looking great and maintain its value for years to come.
One of the most important things to do is to rotate your rug from time to time. That way, one section of the rug won't receive more traffic than others for long periods, and your carpet will wear evenly. The same is true of exposure to sunlight. If there are bright colors in your rug, you'll want to have all areas exposed to sunlight as evenly as possible, since a certain amount of fading is inevitable.
If something gets spilled on your rug, immediately take steps to remove the moisture, because moisture promotes mildew, which is one of the most harmful enemies of area rugs. Using a white paper towel or cloth, begin at the outside edge of the spill and work inward, to minimize spreading of the stain. If the stain is severe and your area rug is of heirloom quality, take the rug to a professional cleaner as soon as possible.  Always comply with your manufacturers recommended cleaning methods to prevent voiding your warranty or cause damage to your rug.
Vacuuming is important, but do not overdue it. I f you have a powerful system make sure to use an attachment/nozzle to reduce the power so the fibers of your rug do not get stretched out. Grit is one of the major enemies of any carpet, so vacuum at least once a week. Additionally have a professional deep clean your area rug yearly to remove soil build up.