General Information
We have Bruce, Mannington, Anderson and more! Hardwood floors, exotic and engineered. Calvins Carpet One has wide plank hardwood flooring at the lowest prices in Florida and Georgia.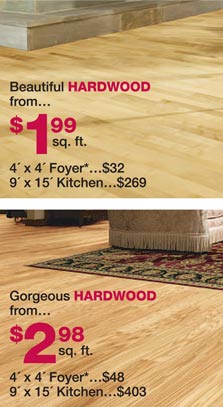 When it comes to natural beauty and richness it's hard to beat the look and warmth of real hardwood floors. Its rich character never goes out of style. The timeless look of an elegant hardwood floor adds a great investment in your homes overall value and can bring any room to life. We carry the World's finest hardwood flooring brands in a wide variety of species, widths, and stains. From cherry to maple to the most exotic wood species from around the world, we can help you select the right wood floor for your décor and lifestyle.

Before you choose your wood floor, here are some points to consider.

Solid Wood
The most common wood flooring consists of solid, one-piece boards, and is available in three basic types: strip flooring which comes in varying widths and is typically nailed to the subfloor; wider width plank flooring boards, which are either screwed or nailed to the subfloor; and parquet flooring which comes in standard 6"x6" squares. Solid wood flooring is not recommended for on grade (slab) installations in Florida.
Engineered Wood
This flooring consists of two to ten layers of wood laminated together. The top wear layer is usually a hardwood veneer of varying thickness, with the lower layer being a softwood backing. Rather than being nailed, most engineered wood floors are glued down. Some are installed as "floating floors," meaning the edges of the panels are glued together but not attached directly to the subfloor. It also can be glued directly to a concrete slab.

Finishes
If you have an off grade home, unfinished floors give you many choices for colorations and durability. Most solid flooring is unfinished while most engineered flooring is prefinished. Hardwood floors are available as either factory-finished or unfinished. Floors with a factory pre-finish tend to be more consistent due to strict application codes and in some cases more durable.
Dependable and long-lasting, hardwood lasts longer than other flooring options and solid hardwood can be refinished several times or even re-stained to change its appearance. Today's polyurethane finishes allow installation in kitchens and half baths, as long as you take precautions to minimize water spills. Engineered woods are considered more stable for kitchen and bath applications.

We install, sand, and finish hardwood floors. We can create custom patterns, borders, and designs of all kinds. In every Calvins Carpet One store you'll find true flooring professionals dedicated to the highest standards of quality, both in the merchandise we carry and in the way we do business.
---
Brands
Mannington

For over 85 years Mannington has been a leading manufacturer in the flooring industry by creating quality hardwood floors with beauty, charm, and durability. They offer a broad selection of wood floors in an exciting range of wood species, gloss levels, constructions, and popular finishes. Mannington uses only premium select wood species for its top face and 100% North American hardwoods for its inner plies for beauty and durability that shows. Their 5-ply, cross grain construction gives their floors more strength than a standard solid wood and floors that will not warp or buckle. Our 7-step UltraWear® Plus finish with ScratchResist™ is a polyurethane/aluminum oxide finish that provides unsurpassed protection against normal wear and helps to protect against fine scratches that dull the finish of wood floors. Most Mannington wood floors are made to be installed anywhere and their UltraFit™ tongue & groove system giving the floors a uniform and stable fit.  Mannington cares about your floor and our planet. Mannington's innovation in production results in using half the number of trees than traditional solid wood floor production methods. Plus, Mannington uses water-based stains and finishes that don't contain harsh solvents, and a formaldehyde-free adhesive system.
---
Biltmore Estate For Your Home Collection

Anderson's Biltmore Estate for Your Home Collection is designed to help you choose the style that represents the way your family lives and plays. A team of Anderson designers was sent to visit the legendary Biltmore Estate to gather ideas and impressions for their Biltmore Estate for Your Home Collection. They came up with 5 different family of floors that express the looks, moods, and stories of Biltmore that inspired them. The collections include Carriage House, Conservatory Plank, Restoration Plank, Olmsted Forrest Plank, and Manor House. They offer unique flooring and accent options for any design trend you may select. These distinctive floors will make your home represent your values, your beliefs and your creative soul. Each collection is sculpted, stained and stenciled by hand to achieve a refined, distinctive look inspired by the elegant décor of the mansion. To ensure that these hardwood floors remain a masterpiece of craftsmanship for years to come, Anderson finishes each plank with a durable, fused-on Aluminum Oxide satin coating.
---
Columbia

Columbia Wood Flooring brings over 40 years of expertise in to every wood floor they make. They offer the industry's most durable finish along with offering some of the most diverse and affordable wood flooring on the market today. Although known for their ¾" solid wood flooring collections, Columbia is renown for producing top quality engineered and exotic wood flooring with their goal of bringing out the exceptional beauty and warmth of every piece of wood. All of their solid and engineered floors have enhanced durability and protection from wear with a DiamondPlate™ aluminum oxide finish that makes it easy to maintain, while providing long-lasting beauty. In addition, Columbia gives back to the community by practicing environmentally friendly standards of harvesting their wood flooring.
---
Anderson

Since 1946, the Anderson family has been designing and manufacturing engineered flooring, and today the Anderson product line is the industry standard for quality, beauty and durability. Anderson floors are available in a wide range of edge profiles. Their construction is backed by a lifetime structural warranty, and their beauty is protected by a finish warranty for up to 20 years. Anderson's selection ranges from woods like oak, pine and pecan, too more exotic species like bamboo. Many of Anderson's flooring collections are hand-scraped, which raises the grain to provide more of an antique look. They use a 5-ply construction method which alternates the grain structure of five separate wood plies to create a product that rivals the strength of steel and uses half as much wood as solid floors. Anderson Hardwood Floors works very hard to protect the environment by using only wood from renewable forest to create their floors. Their Cross-Locked Engineered construction uses 2 to 3 times less wood than do the manufacturers of old-fashioned solid lumber floors. With more than 60 years of experience and innovation, Anderson continues to use its quality processes and excellent craftsmanship to produce its unique designs.
---
Warranties
We understand that buying wood flooring can be confusing so we've taken the guesswork out of flooring your home with an easy-to-understand warranty system offering various levels of protection. Use the chart below to find the performance level that fits the way you live.
>> View Exclusive Hardwood Warranties
No Questions Asked Replacement Warranty
Some of our exclusive hardwoods carry a No Questions Asked Replacement Warranty.  If at any time after installation and during the term of your replacement warranty you wish to change your new hardwood for a different style or color wood floor your Carpet One retailer will replace it with different style or color of equal value from our SelectAFloor Hardwood display.  Should you wish to replace your flooring with a SelectAFloor Hardwood upgrade, you may do so by paying the difference in price.  No monetary compensation will be paid if a lower price product is selected.
This is a one-time replacement only.  Simply call your Carpet One retailer within the time frame of the warranty and indicate you wish to choose another wood floor from the SelectAFloor Hardwood display using the No Questions Asked Replacement Warranty.  This is a replacement warranty and does not apply to matters covered by other warranties. 
Styles purchased at the Bronze and Silver levels carry a materials only replacement warranty and the customer is responsible for paying labor for removal of old floor, reinstallation and disposal costs.
Replacement for styles purchased at the Gold, Platinum and Titanium levels includes replacement materials and labor costs.  Labor to remove the old floor, move furniture, permanent construction (built-ins such as cabinets and bookcases), equipment or electronics is the responsibility of the consumer.
No replacements will be made with respect to flooring that has been subject to abuse, improper maintenance, vandalism, alteration or damage caused by smoke, fire, flood, wind, lightning or any other casualty event.
Wood is a natural product containing natural variations in color, tone and graining.  Wood cannot be guaranteed against natural variations in each plank, nor minor differences between samples and the color of the floor.
(See General Terms and Conditions for other conditions that may apply.)  
Limited Wear Warranty
Your Carpet One retailer warrants that from the date of installation when used under normal residential traffic conditions and with proper care and maintenance, the finish of your wood floor will not wear-through* for the period specified for each of the respective warranty levels below:

| | |
| --- | --- |
| Bronze series  | 10 Years |
| Silver series | 15 Years |
| Gold series | 20 Years |
| Platinum series | 25 Years |
| Titanium series | 30 Years |
*Wear-through is defined as loss of the floor design due to normal household use.  Gloss reduction is not considered surface wear.
Should you feel that your wood floor is not wearing properly, contact your Carpet One retailer.  If the finish of your wood floor wears through during the warranty period, your Carpet One retailer will repair or replace the affected area.
This limited wear warranty applies only to the original purchaser and installation site and is not transferable.
This limited warranty excludes indentations, scratches or damage caused by lack of proper maintenance, misuse, abrasives, insufficient protection on furniture, wet mopping, scratches or indentations caused by spike-heel shoes and pet nails, and any casualty event.
Normal exposure to sunlight will bring about changes in shading of any hardwood floor as the floor ages.  Area rugs should be moved occasionally because they block sunlight and may give the appearance of discoloring under the rug.  This is not considered to be a product defect and is not covered by this warranty.
For CORK products, floor covering installed on stairs is excluded from the limited wear warranty.
 (See General Terms and Conditions for other conditions that may apply.)
---
Installation
Calvins Carpet One's exceptional service doesn't end in the store. From start to finish we make sure you are completely satisfied. We stand behind our professional installation specialists' work with a 'Life of Floor' Guarantee. We can provide you with the highest quality of product and variety of installation techniques. Whether you want nail-down unfinished or pre-finished hardwood, floating hardwood floors or even glue-down hardwood floors, Calvins Carpet One will fulfill your installation needs. Our installers are trained, certified and continually educated on the latest techniques as to insure the optimum life of your flooring. If a floor is not properly installed, it can void the warranties and create problems that won't be covered by the manufacturer. At Calvins Carpet One, our installers will exercise the proper care and install your floors strictly to manufacturer recommendations.
Things to Do Before Installation
We want you to have a clear understanding of the services we provide as well as to be aware of items you will need to handle prior to the installer arriving at your home. After your purchase, items crucial to the smooth installation of your new flooring will be detailed by your sales professional in a pre-installation check list and may include some of the following:

Make sure to discuss the direction of the floor is to be layered with both your salesperson and the installer.
Verification of the installation date.
Ensuring the removal of all "breakables" from the room.
Determining who will remove furniture, appliances and the sub-floor, if needed.
Arranging for the disconnection of gas appliances and icemakers.
Determining if any change to the height of the floor require adjustments to doors in order for them to close properly.
Ensuring the removal of items in storage areas and closets where the floor is to be resurfaced.
Make certain drapes, wall hangings and pictures are removed from walls.
Verify that your in-home temperature is appropriate for installation.
At Calvins Carpet One, you can trust our licensed and insured professionals will get the job done accurately and beautifully, creating a great-looking floor for your home.
---
Care and Cleaning
Like any floor covering, real wood floors will show signs of wear over time, depending on the size and lifestyle or your family. But by observing a few precautions, and using the cleaning and maintenance program recommended by the manufacturer, you can expect years of beauty from your wood floor.
Never clean or wet mop your hardwood floor with water. Do not use any wax or cleaner that must be mixed with water such as oil soap or paste wax products or other household cleaner that contains lemon oil, tung oil or ammonia, as this may damage your floor and result in a loss of warranty. Water can dull the finish and permanently damage the floor.
To help eliminate fine particles of dirt and grit that act like sandpaper and will scratch any floor, vacuum or sweep daily. The vacuum head must be a felt or brush type. Be certain that the wheels of the vacuum are clean and do not damage the finish DO NOT USE A VACUUM WITH A BEATER BAR HEAD.
Remove spills promptly using a soft cloth and cleaning products recommended by the manufacturer. And be sure to keep pet's nails trimmed and paws clean and free of dirt, gravel, grease, oil and stains.
Place protective pads beneath furniture legs and feet to reduce scratches and dents. Use a dolly and protective sheets of plywood when moving heavy objects, furniture or appliances. Some objects may be too heavy to move across a hardwood floor under any circumstances.
Certain types of casters on furniture may damage hardwood flooring. Barrel-type wheels (a minimum 1" continuous width is recommended) or wide, flat glides are best for protecting your hardwood floor.
A humidifier is recommended to prevent excessive shrinkage of wood floors due to low humidity levels. Wood stoves and electric heat tend to cause very dry conditions. In damp conditions, proper humidity levels can be maintained with an air conditioner or dehumidifier, or by periodically turning on your heating system during periods of high humidity in the summer months.

Use quality area rugs inside entryways to prevent dirt and moisture from being tracked onto your hardwood floor. To prevent slippage, only use a quality vinyl rug pad from your retailer. Don't use rubber, foam back or plastic pads as they may discolor the floor.
Exposure to the sun and its UV rays accelerates the oxidation and aging of wood and fabrics. This causes the stain and/or wood to fade and/or change color. It is recommended that you rearrange rugs and furniture periodically so the floor ages evenly.
Remove shoes with spiked or damaged heels before walking on the floor. Spike or stiletto high-heel shoes may cause denting and related damage to hardwood floors due to the extremely high compressive force they generate. Such footwear can produce dynamic loads in excess of 1000 pounds per square inch, even when worn by someone of slight or average build.
As added protection, use dirt-trapping walk-off mats at all exterior doors to keep sand, dirt, grit, grease and oil outside.
Note: Do not turn your air conditioning system off for vacations or time away from home. Wood is intended to be in a climate-controlled area only. Failure to do this will void your warranty.