General Information
Pergo, Formica and all the name brand laminate flooring available are sold here at the best prices in Jacksonville and Orange Park.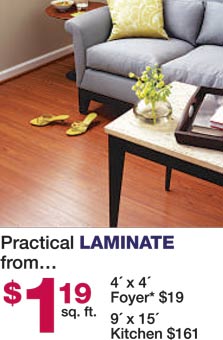 "laminated," to a dense wood core center and a synthetic backing material. It provides your home with an attractive and maintenance free hard surface flooring option that is versatile to fit an active lifestyle. Because it is engineered with layered construction and a high pressure laminate surface, it is virtually impossible for spills and scuffs to leave their mark. Simple and easy to maintain, laminate is an excellent choice for high traffic areas like hallways and family rooms, plus moisture areas such as kitchens and baths.
The benefits of a high performance laminate are limitless and include:
Resist stains and scuffs- Engineered with layered construction and a high-pressure laminate surface, making virtually impossible for spills or scuffs to leave their mark.
Long wearing- The surface of most laminates are burn-resistant and resist scratching from pets. Plus, it will not indent with normal use, nor will the color fade in high traffic areas.
Maintenance- Quick and easy; cleans with a damp cloth or vacuum.
Installation- Can be installed on all grade levels, even below grade. It can also be installed over many types of subfloors.
Affordability- Laminate can mock the beauty and elegance of real hardwood, tile, and stone at a substantially lower price.
Whether you prefer a rich looking ceramic tile appearance or the beauty of a elegant hardwood, we offer countless styles, colors, and textures that are sure to make your laminate flooring experience simple and enjoyable.
---
Brands
Mannington


At Mannington, every design begins with the latest trends in home décor, fashion, and color. Their laminate flooring has the most realistic hand-scraped wood details available today, and offers consumers a simple Good/Better/Best product line. All of their laminate product features Mannington's exclusive NatureForm OptixTM technology, which provides incredible realism through high-definition printing, embossed in register texturing and a high-clarity finish. They used their expertise at making hardwood floors to create laminates in wood styles and tones people prefer most. They even went a step further by pioneering a proprietary process of printing, texturing and finishing that captures original source materials like natural stone and wood with exceptional crispness and depth of color, fount and both our Revolutions TM Tile and Plank collections. A Mannington laminate floor is the closest thing there is to a maintenance free floor. The melamine-impregnated surface w/ aluminum oxide makes it resistant to dirt and dust.
---
Quick-Step


With a rich heritage of European style and innovative technology, Quick•Step is known for transforming both the style and substance of today's flooring. They revolutionized the laminate flooring industry with their direct-pressure technology and Uniclic glueless locking system, which is also backed by a 25-year warranty against wear, staining, and fading. This superior technology allows them to offer the beauty you desire, plus the quality and ease of installation you deserve. With seven unique floor collections, Quick•Step has the perfect floor for you. Each collection offers distinctive style details to help you create the foundation for your room's personality. They are always pushing the boundaries of style to create even more possibilities for you to design the home of your dreams.
---
Mohawk


Enduring Style. Built to Last. Mohawk, the world's most respected name in flooring, introduces Mohawk Laminate Flooring, a premium line of products featuring InstaClic, a glueless installation system based upon proprietary technology. No other flooring laminate flooring on the market provides a similar profile of quality, features and benefits. They're backed by a lifetime structural warranty, and when used with the silentGUARD and moistureGUARD underlayment system, these floors carry a 25-year moisture warranty. Mohawk's outstanding finishes and details replicate the look of hardwood - without the cost or need for maintenance. It's a stunning look that lasts at an affordable price. Mohawk Laminate flooring is positioned for success with essential style that appeals to the vast majority of American consumers and quintessential performance that exceeds expectations without sacrificing design. They have chosen to become industry leaders in giving back to the environment by ensuring more than 50% pre-consumer recycled content in all laminate products.
---
Armstrong


Armstrong has been providing beautiful, long lasting laminate flooring for decades. The Armstrong name is known and trusted the world over for consistent quality, innovative designs and incredibly satisfied customers. Their laminate delivers beautiful, natural looking floors with extreme durability. Armstrong laminate flooring provides an upscale appearance with the characteristics of real wood and stone. It is easy to care for as well as scratch- and moisture resistant. Manufactured with the latest technology, Armstrong creates beautiful, high quality, long-lasting floors backed by some of the best warranties in the business.
---
Shaw
Today's laminate so closely resembles hardwood and tile, it is hard to spot the difference. Due to the modern technology and manufacturing, flooring continues to make innovative breakthroughs. Shaw's Laminate Flooring now offers beveled, distressed, and extremely textured options to give your laminate wood flooring the appearance and feel of true hardwood, wood grain and all. Use texture to add a distinctive touch to your home or choose a distressed style to provide economical beauty. Shaw's laminate is manufactured in layers to create enduring, affordable, attractive flooring. Four layers of material, each with its own purpose, are merged together to create laminate flooring that is tough and will last for years to come.
---
---
Exclusive Calvin's Carpet One Select-A-Floor Laminate Warranties
Calvins Carpet One takes the guesswork out of buying laminate flooring with our easy-to-understand warranty system offering increasing levels of protection based on enhanced levels of product performance. Buying laminate flooring can be confusing so we've made our warranties easy to understand. Think now about how your floor will be used in the future. Do you have children? Pets? Do you entertain frequently? Your answers will affect the life and beauty of your laminate floor.
>> View Exclusive Carpet One Laminate Warranties

Limited Installation Warranty
We guarantee the quality of installation workmanship to be professional and in keeping with industry standards.  Should installation service be required due to deficiencies in the original installation of your laminate floor, we will repair or replace the affected area at no cost to you.  "Life of Floor" is equal to the wear warranty specified for each metal level:
| | |
| --- | --- |
| Bronze series  | 10 year wear |
| Silver series | 15 year wear |
| Gold series | 25 year wear |
| Platinum series | 30 year wear |
| Titanium series | Lifetime |
With respect to the Lifetime warranty applicable to all products at the Titanium level, "Life of Floor" is defined by the lifespan of the homeowner's occupancy. 
This limited installation warranty applies only to the original purchaser and installation site and is not transferable.
Limited Fade Warranty
Calvins Carpet One warrants that with proper care and maintenance, your SelectAFloor laminate will not fade from exposure to sunlight or artificial light for the length of the warranty period determined by the metal level corresponding to the product you purchased.  So you can be assured that your laminate flooring will maintain its fresh look and color for many years to come.
Limited Stain Warranty
Now you can have the beauty of a wood floor and enjoy the easy maintenance you'd expect with a resilient floor.  Laminate floors come as close as possible to being maintenance free and are extremely resistant to stains.

All of Calvin's Carpet One's exclusive SelectAFloor laminates carry a stain resistance warranty that states for the period of warranty coverage, with proper care and maintenance, your laminate floor will not permanently stain from common household use.  Excluded from "common household use" is the use of any caustic chemicals on your floor, the use of any cleaning solutions on your floor other than those approved by the manufacturer, or exposure of the floor to other substances not part of ordinary household use.
The SelectAFloor Laminate warranty system starts off on the Bronze level, offering a 10-year stain warranty. The warranty increases as you move from Bronze, to Silver, Gold, Platinum and Titanium.  The length of your warranty will be determined by reference to the metal level corresponding to the product you purchased.
Limited Water Resistance Warranty
For the length of the warranty, your SelectAFloor laminate floor when installed following manufacturer's instructions, will resist water damage under normal use including damages caused from topical spills and damp mopping provided spills are promptly removed. 
This warranty excludes all casualty events resulting in water coming in contact with your floor, including but not limited to damages caused by flooding or standing water from leaky pipes, faucets, or household appliances.  Also excluded is damage caused by flooding or standing water from hydrostatic pressure or other casualty events.
For more information about our laminate warranties please visit one of our four convenient store locations or email sales@carpetndrapes.com, and our friendly sales associates will be glad to assist you.
---
Installation
If you would like the look of real hardwood, tile, or stone flooring, but want the ease of installation, laminate is what you are looking for. It's glueless locking system makes for a no mess installation. The innovation of these "locking systems" has greatly simplified the installation process for laminate floors. These floors can be installed faster with no messy glue clean up, and are able to be used immediately, whereas most glue laminates need to set for 18-36 hours before being walked on. It can be installed over areas that are flat and stable like tile, vinyl, or sub-floors. Because laminate is a floating floor, we are able to install it in any direction. Make sure to notify your salesperson if you have a preference for direction. In addition to our quality installation and service, Calvins Carpet One is the only flooring retailer in Jacksonville that offers a lifetime installation warranty.
We want you to have a clear understanding of the services we provide as well as to be aware of items you will need to handle prior to the installer arriving at your home. After your purchase, items crucial to the smooth installation of your new flooring will be detailed by your sales professional in a pre-installation check list and may include some of the following:
Verification of the installation date.
Ensuring the removal of all "breakables" from the room.
Determining who will remove furniture, appliances and the sub-floor, if needed.
Arranging for the disconnection of gas appliances and icemakers.
Determining if any change to the height of the floor require adjustments to doors in order for them to close properly.
Ensuring the removal of items in storage areas and closets where the floor is to be resurfaced.
Make certain drapes, wall hangings and pictures are removed from walls.
Verify that your in-home temperature is appropriate for installation.
---
Care and Cleaning
Laminate flooring brings the beauty of a wood floor and the easy maintenance of a resilient floor together so you can have the style you want and the carefree maintenance you need. While laminate flooring is remarkably durable, there is of course no such thing as an indestructible flooring material. By observing a few precautions, and using the cleaning and maintenance program recommended by the manufacturer, you can expect years of beauty from your laminate floor.

For general cleaning, use a damp dust mop or wipe occasionally with a damp cotton or cloth mop. If heavier cleaning is needed, an occasional damp mopping with the manufacturer's recommended cleaning products is suggested. Do not use detergent-based cleaners, wax-based products or any type of polish as they leave a dull, filmy residue. Do not flood your floor with water.

To help eliminate fine particles of dirt and grit that act like sand paper and will scratch any floor, vacuum or sweep daily. The vacuum head must be a felt or brush type. Be certain that the wheels of the vacuum are clean and do not damage the finish.

Remove spills promptly using a soft cloth and cleaning products recommended by the manufacturer. And be sure to keep pet nails trimmed and paws clean and free of dirt and gravel that may scratch your floor. Place protective pads beneath furniture legs, tables, and other easily movable furniture to reduce scratches. We recommend you to replace plastic casters on chairs with rubber wheels and always lift rather than slide heavy objects across the floor.

Remove shoes with spiked or damaged heels before walking on the floor. Spike high-heel shoes may cause damage to laminate floors due to the extremely high compressive force they generate.

Preventative maintenance is also important with laminate flooring. For instance, use mats in high traffic areas, like an entryway, to help collect dirt, sand, grit, and other substances such as oil or asphalt. Area rugs are also a good idea for protection, but you might want to use a non-skid rug underlayment. When damage does occur, though, it can be repaired. Minor scratches or dents to a plank can be repaired using a flooring touchup or color-fill kit. It is a filler material that's color coordinated to the color of your floor that, when used properly, is almost invisible. The repaired area will hold up to traffic and wear just like the rest of the floor. If the plank is too bad and must be replaced, usually this is not a problem. Joints can be disassembled, allowing a new piece to be put in.