General Information
Ceramic Tile
Ceramic Tile is not just for the kitchen these days. We have hundreds of colors of ceramic tile available at the lowest price.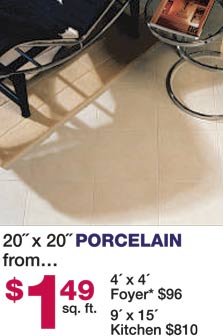 Ceramic tile is a timeless classic offered in an infinite number color, sizes, and shapes, with finishes ranging from smooth to textured or even a tile that resembles stone. It is a preferred choice for high traffic areas, like entranceways, and places where moisture is an issue, such as kitchens and bathrooms. Extremely durable and easy to maintain, tile compliments other floor types such as carpet, hardwood, or laminate. Ceramic tile immediately adds a sense of elegance and warmth while instantly increasing the equity of your home. At Calvins Carpet One we offer a wide variety of ceramic and porcelain tiles giving you endless possibilities to create the room you've always wanted.    
Ceramic tile is a mixture of clays and minerals that have been shaped, pressed, and fired at high temperatures resulting in a hard body. Because of its solid body ceramic flooring can last a lifetime. It is hygienic and as a result less likely to promote the retention of allergens. In addition, ceramic surfaces hinder the spread of fire and resists water due to its low water absorption rates.
Glazed Tile
Most of the common ceramic tile have glazed or unglazed surfaces. Glazed tiles have a special coating applied to the body of the tile and hardened by tremendous heat. The result is a stain, fade, scratch, and fire resistant tile. In addition, it is easy to clean. Glazed tiles come in a variety of colors and gloss levels. Typically, lighter color glazes tend to be stronger than darker ones and shiny glazes tend to be softer than a matte or satin finish. Keep in mind, the harder the glaze, the more resistant it is.
Unglazed Tile
Unglazed tile has no glazing or any other coating applied to the tiles. The color goes all the way through from the tile surface to the back resulting in a very durable tile that will not show the effects of heavy traffic. Unglazed tile color variation is limited and more delicate than glazed tiles, therefore not as versatile. On the other hand, they are thicker and denser than glazed tiles resulting in a slip resistant tile that is more durable.
Porcelain
Porcelain is a type of ceramic made of very fine mixtures of clays and minerals similar to those found in elegant dinnerware. These tiles are fired at higher temperatures than ceramic resulting in a denser tile that is more resistant to stains and moisture. Many porcelain tiles can be used both indoors and outdoors.
Natural Stone
Natural stone such as granite or marble is naturally formed so that no two pieces are exactly alike. Granite has a high density that can resist bacteria and moisture, which makes it ideal for high traffic areas such as kitchens or outdoors. Marble is not as tough as granite, so it is best suited for bathrooms and lower traffic areas. Both of these act great as accent borders and backsplashes.
Grout
Grout, consisting of sand and cement, is used to fill the joints between ceramic tiles. The effective use of grout completes a ceramic design. Grout comes in many colors and can be installed in various widths. Most ceramic designs coordinate the grout color with the ceramic tile. However some designs call for contrasting grout color.
---
Brands
Dal-Tile

Dal-Tile has been manufacturing, distributing and marketing high-quality ceramic tile products for over 40 years. They are the largest ceramic tile manufacturer in the U.S. and one of the largest in the world. Dal-Tile offers well over 100 product lines in a remarkable variety of colors, textures, and patterns. From decorative trim pieces to various size squares to large glass mosaic murals, there is something for everyone. Dal-Tile believes that being a leader in the industry includes a continuing contribution to the improvement of our planet. This contribution includes a dedication by Dal-Tile to incorporate environmentally friendly materials, processes and products throughout our organization and to mandate safe factories, warehouses and offices for our employees, customers, vendors and visitors.
---
Mannington

Mannington has one of the most extensive collections of porcelain tiles on the market. Their product line coordinates with today's most popular home fashions, including the trend toward more natural looks. Since 1915, Mannington has focused solely and exclusively on flooring, creating one of the most technologically advanced and product-focused companies in the industry.  They are nationally recognized as a genuine leader in product and design accomplishments, as well as operational excellence and environmental stewardship. Mannington's porcelain tile, which is a kind of ceramic tile, coordinates with today's most popular home fashions, including the trend toward more natural looks. Their floor, wall and trim tiles replicate some of nature's most exquisite stones. For over 90 years, Mannington has made flooring their only business and
continues to use their knowledge and expertise to create beautiful floors for your home or office.
Mohawk

Mohawk is one of the oldest and largest floor covering manufacturers in the world. Mohawk Tile offers a broad array of products in all major product types: floor tile, wall tile, mosaics and decorative tiles. From glazed floor to ColorBody porcelain tile, Mohawk ceramic tile has a product to suit virtually any use throughout the home.  Since color and design are so important in creating the right look for your home, Mohawk Ceramic has taken special care to create products that offer the right blend of colors, sizes, textures and finishes to express your individuality. Whether designing a French country cottage or a modern-day loft, Mohawk Tile has the products you're looking for and all with the reputation for superior service, quality and reliability that Mohawk is known for. Since 1878, they have built a reputation for value, design, service, quality, and innovation making them an industry leader today.
---
Shaw

Shaw offers a wide range of ceramic tiles and matching accessories for the bathroom, kitchen, entryway or other area of your home. Shaw ceramic tiles are durable, long lasting and come in colors ranging from rich, deep hues to light beiges to more exotic colors so you can achieve the look you want for your home. Rest assured that Shaw tile keeps busy families' budgets and needs in mind so your family does not have to. Shaw has everything you need to create a unique, one-of-a-kind look that reflects your personality, taste and style. The Shaw mission is to exceed customer expectations service, quality and value. The company accomplishes this goal through hard work, integrity and honesty. Great floors begin with Shaw.
---
Warranties
Limited Wear Warranty
We warrant that from the date of the original installation when used in a residential setting under normal residential traffic conditions and with proper care and maintenance the ceramic tile floor will not wear-through* for the period specified for each of the corresponding warranty levels below:
Bronze series        10 years
Silver series          15 years
Gold series           20 years
Platinum series     25 years
Titanium series     30 years
*Wear-through is defined as loss of surface finish, to the point that the body of the tile shows through, due to normal household use. 
The wear resistance of glazed tile can be measured subjectively, by observing the visible surface abrasion of the tile when subjected to the ISO 10545-7 testing procedure.
This limited wear warranty applies only to the original purchaser and installation site and is not transferable.
This limited warranty excludes damage in the nature of chips or scratches or damage caused by improper care and maintenance, misuse, abuse, use of abrasive products on the ceramic tile, insufficient protection from furniture or any casualty event.
Limited Fade Warranty
We warrant that with proper care and maintenance (see Floor Care and Maintenance) your SelectAFloor ceramic will not fade from exposure to sunlight or artificial light for the length of the warranty period determined by the metal level corresponding to the product you purchased. 
Bronze series       10 years 
Silver series         15 years
Gold series          20 years
Platinum series     25 years
Titanium series     30 years
Limited Stain Warranty
With our SelectAFloor ceramic, you are assured outstanding quality and style.  All SelectAFloor ceramic is designed to meet the highest performance standards and is warranted not to permanently stain when used under normal household conditions and properly maintained.
Excluded from this warranty are stains to your ceramic tile caused by exposure to IODINE and/or PERMANENT MARKERS.  Also excluded from this limited stain warranty are stains to grout, caulk or any other material adhering to the tile. 
The metal level corresponding to the product you purchased determines the length of this limited stain warranty.
Bronze series      10 years
Silver series       15 years
Gold series         20 years
Platinum series     25 years
Titanium series     30 years
Additional Manufacturer Warranty
DalTile Mesa Verde and Hacienda
Mesa Verde and Hacienda Ceramic products that are exclusive to CCA Global have their warranty assigned through DalTile.
All of DalTile's products, including Mesa Verde and Hacienda, have warrantees for one year for manufacturing defects only.
If you have an issue with Mesa Verde or Hacienda products please contact DalTile directly and they will advise you on the warranty procedures.
Note: All other non Carpet One tile products will have various warranties according to their manufacturers.
---
Installation
At Calvins Carpet One the installation of your tile floors is just as important as the products we carry. That is why we only provide the very best service and expert installation around. You can trust our trained professionals will create a beautiful looking floor for your home. We are so sure you will be more than satisfied with the installation of your floors that we guarantee to correct any installation-related problems for free during the intended life of your floor.
We want to make sure your experience is easy and enjoyable from start to finish. There are few factors to consider and guidelines to follow that may help you through the installation process.
Make sure to verify your installation date.
Make sure to discuss the style and/or direction of the installation with both your salesperson and the installer.
Remove all "breakables" from the room.
Determine who will remove furniture, appliances and the sub-floor, if needed.
Arranging for the disconnection of gas appliances and icemakers.
Determine if any change to the height of the floor require adjustments to doors in order for them to close properly.
Ensure the removal of items in storage areas and closets where the floor is to be resurfaced.
Make certain drapes, wall hangings and pictures are removed from walls.
Verify that your in-home temperature is appropriate for installation.
---
Care and Cleaning
Tile products for the most part, require minimal maintenance.  Glazed and unglazed tile, under normal residential situations, can be cleaned using clear water with a tile cleaner recommended by the manufacturer.  Always follow up with a rinse of clean water.  Regular maintenance is recommended to avoid build-up of dirt, residue, grease, soap, detergents or other external contaminants. 
Improper maintenance and improper cleaning products can result in a build-up on the surface causing the tile to be slippery.  Wax cleaners and oil-based detergents may decrease the slip resistance and are not recommended for use on your ceramic tile. 
For basic cleaning, the following procedures are recommended:
Sweep or vacuum surface at least once a week.
Mix water with tile and grout cleaner per manufacturer's instructions and apply to surface
Allow solution to sit for three to five minutes
Agitate with sponge or mop
Mop up solution
Rinse mop and change cleaning solution at least every 500 square feet
Rinse thoroughly with clean water
Dry mop floor to remove moisture or pick up residue with a wet-vac
Wipe the floor dry
For tile with coarse or abrasive type surfaces, maintenance will need to be performed more frequently.  Agitation will need to be more vigorous and water changes more frequent.  Proper cleaning of these types of tile is necessary for the slip resistance value to be maintained.  Grease or water accumulation may create slippery conditions.  Be careful to avoid introduction of grease from dirty mops to your floor surface while cleaning.
Because the grout on your ceramic tile needs time to thoroughly dry after installation, we recommend you do not scrub or wash your ceramic tile for 5 days after installation. If the grout becomes stained or discolored, it can be brightened by a good cleaning with diluted bleach (3 parts bleach to 1 part water). For best results, use the edge of a sponge or a toothbrush for this job, and be careful to keep the bleach solution away from other surfaces.
Good quality entry and exit mats will help protect your tile floors from premature wear. They trap the dirt, sand and other substances such as oil or driveway sealer that would otherwise be tracked onto your floor. Mats are also recommended at heavy pivot locations such as in front of your stove or kitchen sink. Avoid placing sharp objects on your tile floor. When you can, use plastic floor protectors to prevent furniture legs from scratching the tile. And try to avoid walking on tile floors in narrow-heeled shoes.
---