Calvins Carpet One has new vinyl flooring with hundreds of styles at the best prices in Florida and Georgia. We have 5 locations in Jacksonville and Orange Park. Vinyl is great for the kitchen, bath or any room in your home.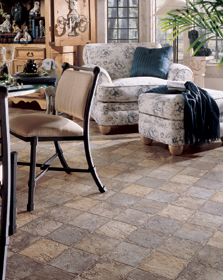 Vinyl is one of the most versatile flooring options available. Easy to maintain and ideal for moisture-prone areas, it has long been a staple floor material for bathrooms, kitchens, and entryways. Vinyl is very comfortable underfoot offering another benefit for rooms such as kitchens or laundry rooms where you may be standing for prolonged periods of time. Because vinyl is offered in a wide range of textures, patterns, and colors, it tops the fashion scale, reinforcing classic looks or adding an up-to-the-minute splash of color and fun. In addition, vinyl can create a visual appearance and textures of real ceramic tile, hardwood and stone. Calvins Carpet One carries countless styles and colors of vinyl flooring from leading manufacturers such as Mannington and Armstrong. Whether you prefer traditional, contemporary, or country our endless selections of vinyl floors will make it easy for you to find the right color to match your room décor. Some of the features of this easy-care surface that make it such a popular flooring choice are strength, resilience, combined with colors and designs that reveal the true beauty of your home. Vinyl holds up very well to heavy traffic, children and pets. This surface is waterproof for worry-free living, even when spills are not wiped up immediately. Vinyl can be used virtually anywhere in your home and is one of the most affordable flooring solutions available.
Vinyl is available in three different types of wear layers. Vinyl no wax is the least costly wear layer, offers basic protection, and is easy to clean.  Urethane is slightly more expensive, but offers great scratch and stain protection. Enhanced urethane offers the maximum amount of protection and is priced above regular urethane. This option provides the greatest defense against heel marks, dirt, and household cleaners used in high traffic areas.
Vinyl floors are manufactured in both sheet and tile formats. Sheet vinyl is offered in both 6' and 12' widths or in any length needed.  Vinyl tiles come in various sizes and thickness. Whether you prefer soft hues or vibrant colors, today's vinyl has it in many patterns, designs, and textures.
Vinyl floors offer:
Unlimited style and design options - match any decor
Ease of maintenance - no hassles with mopping
Good durability - even in traffic areas
Broad range of costs - fits all budgets
Extremely moisture resistant - for wet area use
Unlimited usage - use in any room of the home
Better resiliency - easier underfoot
Easy to replace - when ready for something new
---
Brands
Mannington

Noted the leader in resilient floor styling and design for more than 15 years, Mannington vinyl flooring offers elegant fashion, durability and superior performance. Mannington floors are engineered to retain their beauty even in high activity rooms such as kitchens, baths and hallways. They offer a wide selection of elegant patterns, beautiful textures and vibrant colors that are sure to fit any décor and budget. Plus, Mannington's patented GUARDIAN™, a tough innercore construction, protects your floor from rips, tears and gouges as well as permanent indentations and bottom-up staining and moisture. With their exclusive urethane wearlayer systems, Mannington floors are easy to clean and resist stains better than most other floors.
---
Armstrong

Armstrong vinyl flooring is one of the most resilient and best known of all the vinyl flooring made today.  They offer a wide variety of patterns such as marble, natural stone or tile as well as wood, all of which look very similar to their natural counterparts. Each vinyl flooring that Armstrong manufactures is made using a ToughGuard construction. This type of construction contains a core that is durable and resistant to tearing, gouging or any other kind of damage that can be caused to the structure of a floor. They offer both high and low gloss products, and many of their products feature a scratch-resistant CleanSweep PLUS urethane wearlayer enhanced with aluminum oxide that prevents abrasive wear damage. Easy to maintain as well as long lasting and resilient, Armstrong vinyl floors are a great choice for kitchens and bathrooms.
---
Warranties
Limited Wear Warranty
We warrant that from the date of installation when used under normal household conditions and with proper care and maintenance, your vinyl floor will not wear through* the wear layer for the period specified by the warranty level of the product purchased.
| | |
| --- | --- |
| Bronze series  | 5 Years |
| Silver series | 10 Years |
| Gold series | 15 Years |
| Platinum series | 20 Years |
| Titanium series | 25 Years |
Should you feel that your vinyl floor is not wearing properly, please contact your sales person. If the wear layer of your vinyl floor wears through during the warranty period, we will repair or replace the affected area. This limited wear warranty applies only to the original purchaser and installation site and is not transferable.
>> View Exclusive Hardwood Warranties
---
Installation
At Calvins Carpet One the installation of your vinyl floors is just as important as the products we carry. That is why we only provide the very best service and expert installation around. You can trust our trained professionals will create a beautiful looking floor for your home. We are so sure you will be more than satisfied with the installation of your floors that we guarantee to correct any installation-related problems for free during the intended life of your floor.
We want to make sure your experience is easy and enjoyable from start to finish. There are few factors to consider and guidelines to follow that may help you through the installation process.
Make sure to verify your installation date.
Make sure to discuss seam placement with both your salesperson and the installer.
Remove all "breakables" from the room.
Determine who will remove furniture, appliances and the sub-floor, if needed.
Arranging for the disconnection of gas appliances and icemakers.
Determine if any change to the height of the floor require adjustments to doors in order for them to close properly.
Ensure the removal of items in storage areas and closets where the floor is to be resurfaced.
Make certain drapes, wall hangings and pictures are removed from walls.
Verify that your in-home temperature is appropriate for installation.
---
Care and Cleaning
Taking care of your vinyl floors starts immediately after installation. Keep traffic light during the first 24 hours after installation so the adhesive can dry properly. If your floors have been seamed, avoid stepping on the seam sealer for 24 hours so it can dry without being disturbed. Try to avoid scrubbing or washing your new vinyl floor for atleast 3 days after installation.
Routine cleaning of your vinyl floors is remarkably easy. Daily vacuuming, sweeping or mopping will help maintain the original shine and color of a vinyl floor for years. Quick clean up of spots and spills with a mild detergent and water will prevent discoloration of the flooring, and a weekly or bi-weekly cleaning with a commercial floor cleaner keeps the floor looking as good as new.  Make sure to thoroughly sweep the floor to remove as much dust, lint and loose dirt as possible before mopping with a cleaning solution. Today's vinyl floors are tough enough to withstand even the most active families but are not indestructible and will dull over time. To protect your floor and renew lost luster it is necessary to apply a coat of polish as a part of your periodic maintenance routine. Use the manufacturers recommended products when known. Make sure your floor is clean and thoroughly dry before applying polish.
In addition to the regular maintenance of your vinyl floors there are some simple tips to follow that can help them remain beautiful for years.
When using a vacuum, if possible turn off the beater bar and use a hose or wand with an upholstery attachment. Vacuum wheels may also be a source for indenting and scuffing, check the wheels for embedded grit.
Vinyl flooring is tough, but still subject to scratches, dents and tears. It is a good idea to use felt pads under all furniture legs that are placed on vinyl floors. Also, the slick, shiny appearance of well-maintained vinyl floors makes sliding furniture seem easy, but it's not a good idea. Always lift furniture off the vinyl when moving it.
Your vinyl floor can discolor or fade when exposed to strong sunlight. To avoid the damaging effects of direct sun, drape or shade large sun-facing windows during peak sunlight hours.
Some appliances and heating units produce a direct flow of heat to your floor, which may eventually scorch, discolor, burn or fade your flooring. Placing non rubber-backed mats at strategic areas, such as your stove, can prevent this.
Use a doormat outside each entrance to your home to prevent dirt, sand, and grit from being tracked onto your floor. Inside use area rugs on high traffic pathways and pivot areas: at ends of steps, near doorways, etc. All rugs should allow floors to breathe. Avoid rubber-backed or non-ventilated rugs. Use no-slip rug underlayment made especially for hard surface flooring to prevent your rugs from moving. In addition, use non-staining mats on your floor. Do not put rubber-backed or latex backed mats on your floor because they can stain and cause damage.