General Information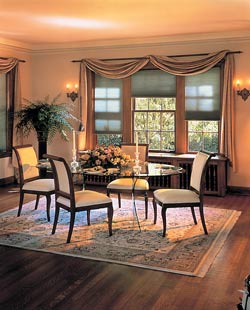 One of the simplest and most affordable ways to change the entire look and feel of a room is to change the window treatments. Whether you prefer custom drapes, roman shades, plantation shutters, or a common vertical blind, Calvins Carpet One can help you find the perfect window treatment for your home. We carry an endless variety of window coverings from leading manufacturers such as Hunter Douglas and Graber. In addition we manufacture our own 2" faux wood blinds.
Window coverings have many other benefits besides just adding beautiful décor to a room. Sheer window shades allow you to control light levels and privacy and can soften the look of your home. Another great benefit is the potential that a window treatment has for conserving energy.  For instance, you may want to block the sun out of a bedroom while taking advantage of the sunlight in the family room. For parents concerned about kids becoming entangled in window shade cords, there are a number of cordless options that are beautiful, stylish and safe. If you love the idea of wood blinds, but not the warping, cracking or fading that goes along with them; think about engineered or faux wood.  Look for vertical blinds that are energy efficient, use soft fabrics and operate without the use of bottom weights and chains. Along with beauty and elegance, drapery has its practical side as well. They can add substantial insulation value, especially when lined or used as an over treatment with blinds and shades.
Blinds and shades are the most versatile window treatment in terms of functionality and form. This is one type of window treatment that can go anyplace such as bathrooms, kitchens, bay windows, oversized windows to the smallest of windows. They can easily be mounted to French doors or glass doors to help with privacy at night or allow the sun to shine during the day.
Faux wood blinds are durable and long-lasting that offers the luxurious look of real wood blinds without the expense. They are the most popular blind available and suitable for all rooms, especially areas with high heat and humidity, as they will not crack, warp, or split. Available in a wide variety of colors and textures, faux wood blinds are a perfect addition to any home or office. We stock the popular off-white color faux blinds for immediate delivery at the lowest prices.
Like fine wood furniture, wood blinds add a special touch of warmth and rich, natural beauty to any room. They are available in a number of slat sizes, in a full range of finishes, from stains and paints to a gently textured sandblasted finish. Wood blinds consist of horizontal wood slats that can be tilted open or closed for light control and privacy.
Metal Aluminum blinds provide a lower cost and durable solution for the budget cautious. Blinds are available in different slat sizes to create the look that's right for you. These blinds are available in a wide variety of colors from the top manufacturers. Cloth tapes, which provide maximum light control, are available as well to provide a distinctive touch to complete your space.
Natural weaving woods and yarns into a roman style shade they gently filter light to create a distinctive look and unique ambience. Perfect for relaxing and entertaining.
Vertical blinds are the most popular in the industry, offering innovative design and fashion with textured fabrics and embossed patterns, while providing light management and privacy.
Plantation shutters offer a beauty and simplicity that fit with any décor. They are made from a variety of materials and slat sizes, as well as crafted finishes and wood grades. Vinyl shutters are also available for those more humid areas.
With thousands of styles, colors, materials and hardware to choose from, you are sure to find exactly what you need at Calvins Carpet One. We have our own custom drapery workroom over 4000sq ft., which allows us to produce jobs quickly as opposed to most other retailers that outsource their work. From traditional to contemporary, soft romantic to sleek modern, your style is our specialty.
Custom Drapery offer timeless style combined with warmth, intimacy and functionality. You can mix and match drapery with many different fabrics to blend the perfect color and texture to easily traverse across any window. Whether they are simply hung, or swooped in an unusual style, draperies provide glamour and personality. Draperies are much more than a simple window dressing. They function to control light, hide a sight or accent a view. Here are some common terms that can help you along the way.
Swag & cascade: a fabric top treatment that drapes and overlaps itself across the face of the window. Usually installed with the side panels called cascades.
Puddling: a long panel that falls to the floor creating a puddle of fabric.
Scarf: a flowing fabric that is swaged or looped across the top of the window with free flowing panels down the sides. May use a single scarf or several scarves in a symmetrical and asymmetrical design.
Sconces: decorative hardware used to hold scarf. Usually made of plastic wood or metal.
Tab top drapery: fabric loops slip over rods, taking the place of rings. Use wood or metal poles, or cafe rods.
Make your window treatments go from simple to sensational by adding decorative drapery hardware as the finishing touch. Add a personal touch to your window treatments with an elegant decorative hardware. Choose poles and finials, rings and holdbacks, sconces and decorative curtain rods, finials and accessories – make your window treatments go from simple to sensational by adding decorative drapery hardware as the finishing touch.
Make an appointment today for a free in home consultation. One of our expert design consultants will help you choose a color palette, fabrics, and a design concept that is just right for your lifestyle and budget. Additionally they will ensure proper measurements and final installation.  Let Calvins Carpet One create you a look that defines your personal style and show how small touches can leave big impressions.
FREE In-Home Measure! Click here or call our design specialist today at (904) 260-0109
---
Brands
Graber

The Graber brand has long been synonymous with style and sophistication, providing a timeless look that's always on trend. Offering innovation, quality, service and selection since 1939, Graber transforms the blank canvas of an uncovered window into a beautiful work of art.

Choose energy efficient cellular shades made of soft, sumptuous fabrics. Invest in 100% North American wood shutters stained to match wood blinds, or custom colored to match your favorite molding or fabric. Select elegantly textured, dimensional roman shades, or vertical blinds with modern, yet enduring style. Enjoy solar shades that enhance a view while they manage the sun's glare.
Keep children safe with sleek cordless controls. Make operation convenient and accessible with motorization. Achieve smooth operation with head rails known for being the best in the industry. Add decorative drapery hardware, valances, cornices and other embellishments for a finishing touch.

No matter which type of Graber window treatment or option you select, a limited lifetime warranty and the resources of our experienced customer service team back every product.
---
Hunter Douglas

For over 50 years, Hunter Douglas has created innovative and beautiful window coverings. They are currently the leading manufacturer of custom window coverings combining the best features of blinds, shades and draperies. You'll get a variety of choices in privacy and light control, along with almost unlimited decorating possibilities in fabric, texture, color, style and specialty hardware systems. Together with durability, easy maintenance, and superior energy efficiency. Hunter Douglas knows clean, contemporary lines and simplicity are what's in demand. They work toward that end to help consumers simplify their lives.

Hunter Douglas' renowned legacy includes Duette® honeycomb shades, an energy-efficient honeycomb design developed in 1985 in response to the energy crisis; Silhouette® window shadings, introduced in 1991, which set a whole new standard of style and beauty with fabric vanes suspended between two sheer fabric facings. 1994 brought the introduction of Luminette® Privacy Sheers, which offer the beauty of sheers and the privacy of soft draperies. And most recently Alouette® Light Louvers, which combine the architectural beauty of a wood shutter, the soft fabric finish of a shade and the light control and privacy of a traditional blind.
---
Care and Cleaning
In order to keep your blinds and shades looking new there are a few simple and effective maintenance tips to follow that require minimal effort. Faux wood, wood, and aluminum mini blinds need light dusting with a soft, clean cloth, vacuum cleaner brush attachments, or feather duster once a week to keep clean. Opening the louvers to one direction, dust it, reverse the direction and dust again. If you happen to find a stain on your fabric, faux wood, or aluminum blinds, wipe it with a damp cloth. Some stubborn stains may require mild detergent. Do not use a damp cloth or detergent on wood blinds. When in doubt make sure to check with the manufacturer of your product for further instructions.
Maintenance of your draperies involves routine vacuuming with the dust brush attachment on your household vacuum cleaner or simply use a feather duster. You should do this every couple of weeks to avoid dirt and dust build up. Depending upon dust conditions, cooking habits, and other factors, you may wish to do this every three to four months. After months and months of exposure to dust, cooking or tobacco smoke residues, and other environment pollutants, your draperies may need to be professionally and thoroughly cleaned. Make sure to always check the labels on your draperies and clean according to your manufacturers instructions or contact them directly.
With the proper care and maintenance, your window treatments can maintain their beauty and usefulness for decades.
---